Wednesday, November 23, 2016
By Daniel Tencer
A growing economy is supposed to raise people's standards of living, but a new study suggests this effect is breaking down in Canada.
An index of wellbeing published by the University of Waterloo found that Canada's economy grew by 38 per cent per person between 1994 and 2014, but wellbeing, as measured by the study, only grew by 9.9 per cent.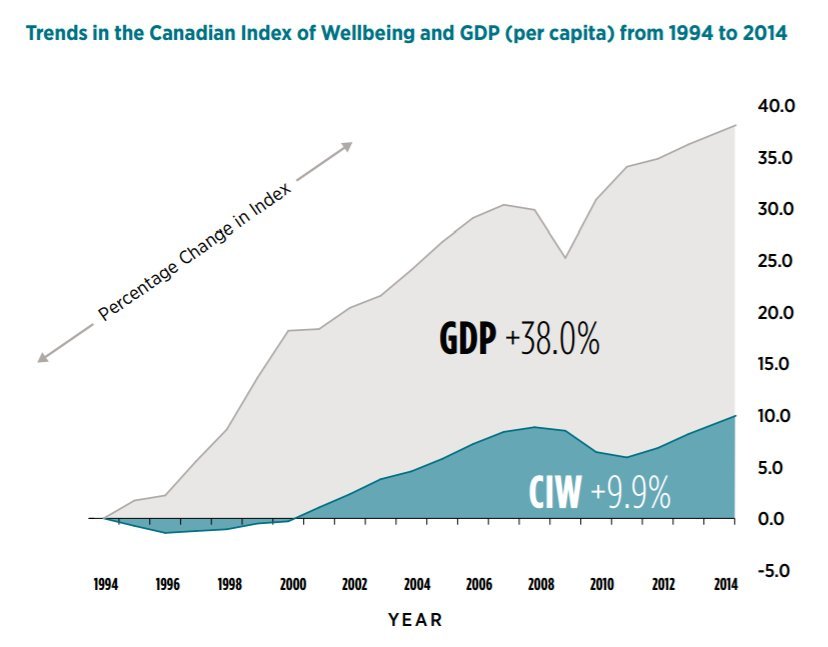 The study used some 200 different data points, mostly from Statistics Canada, to create an index of wellbeing based on categories such as education, time use, leisure and culture and environment.
"There is a feeling that all is not well in Canada," the study authors wrote. "But it's more than a feeling: It's a fact."
Canada's economy recovered quickly from the global financial crisis of 2008-09, but Canadians' quality of life did not, and the index has barely recovered to where it was before the recession.
The measure for living standards fell 11 per cent during the recession, and "since the recession, work is more precarious as all of the gains made in curbing long-term unemployment and securing full-time employment prior to 2008 were lost," the study said.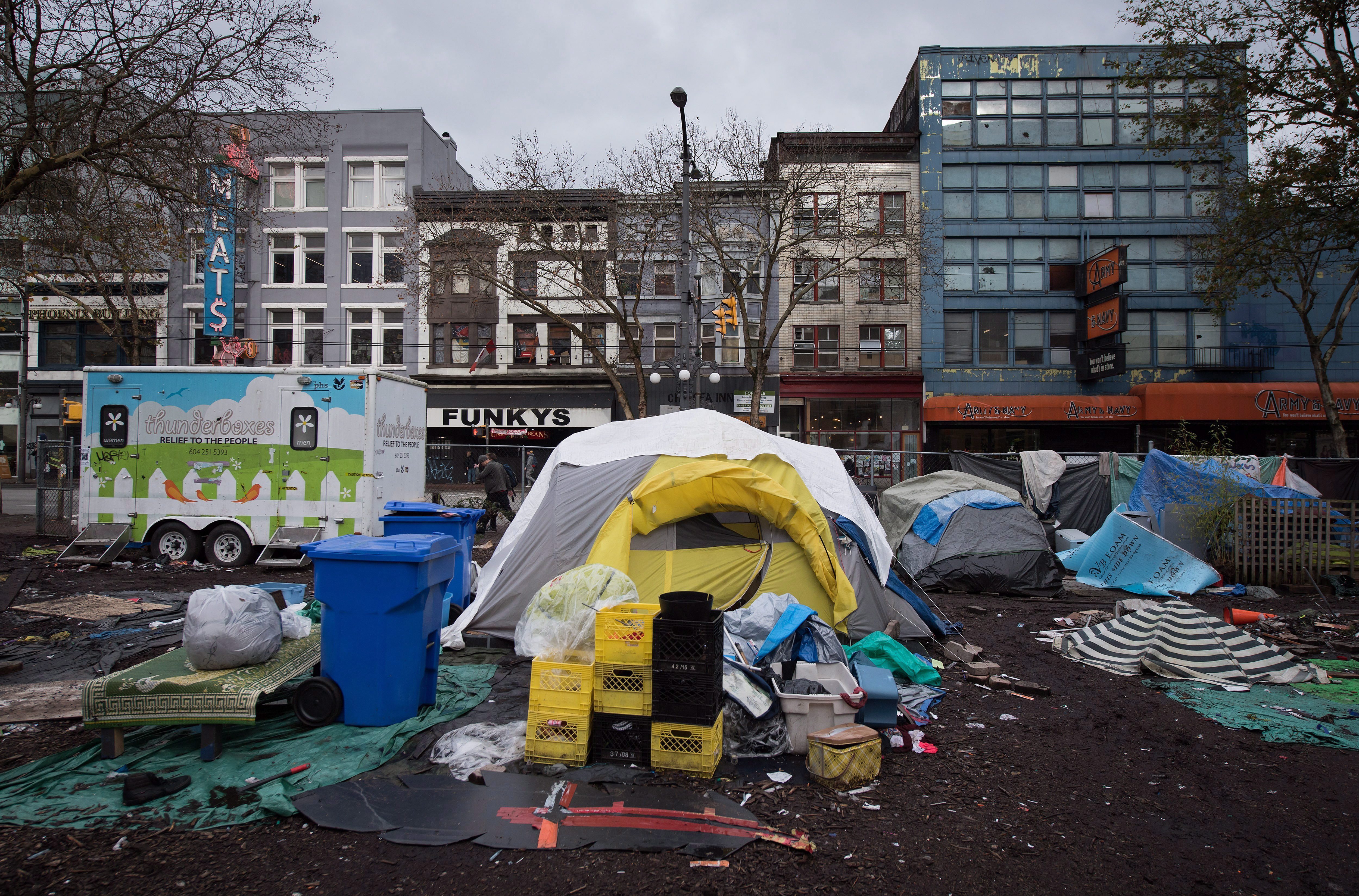 A homeless camp on a city-owned lot in the Downtown Eastside of Vancouver on Thursday, November 17, 2016. (Photo: The Canadian Press/Darryl Dyck)
The leisure and culture component has been declining for years, and is down 9 per cent since 1994. Spending on recreation, culture and sport hit its lowest point in the study period in 2014, the latest year for which data was used.
The time use measure shows Canadians are spending 30 per cent less time with friends, and only 35 per cent are getting enough sleep, compared to 44 per cent in 1994. The time use index is up 3 per cent in 20 years -- but only because more people are being forced to work part-time.
The environment index has declined 2.9 per cent in two decades.
"Our environmental footprint, the fourth largest in the world, remains massive and unchanged," the study said, noting that greenhouse gas emissions are up, there has been no improvement in smog levels and farmland is disappearing, though industrial farms are producing more food.
"Individual Canadians are doing their part, reducing residential energy use by 20 per cent, but much more progress has to come from those industries that generate 60 per cent of emissions."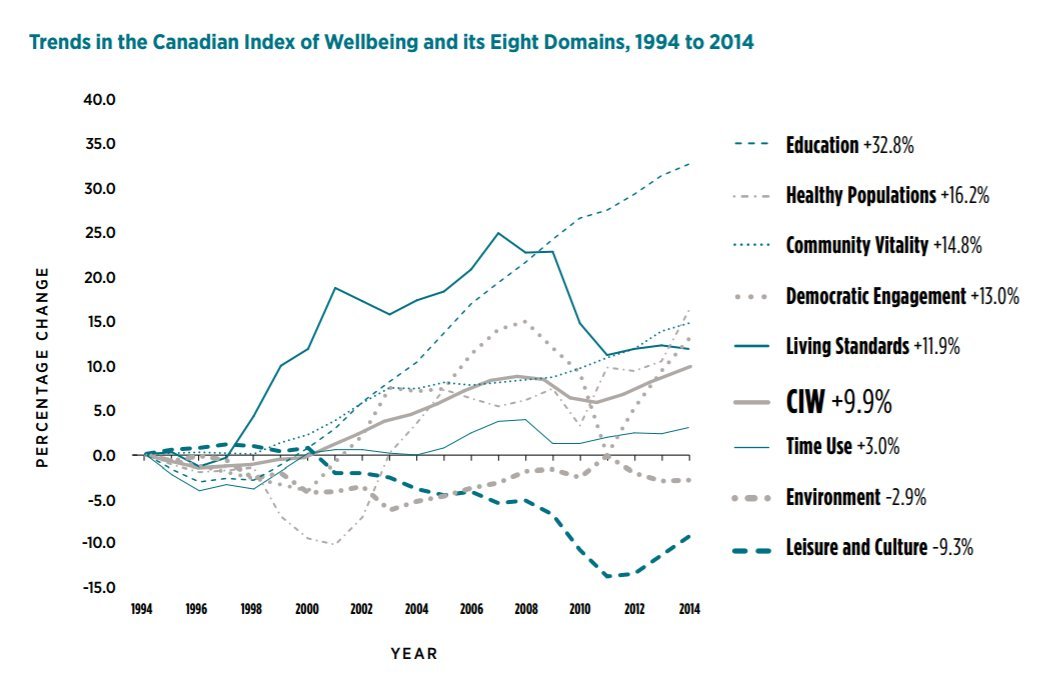 Education is the only part of the wellbeing index that has kept up with economic growth. (Chart: Canadian Index of Wellbeing)
One bright spot was the education measure -- the only part of the index that has kept up with economic growth.
"Nine out of 10 students now complete high school and almost one in three Canadians (28 per cent) holds a university degree --- up from 17 per cent in 1994," the study said.
"However, tuition fees nearly tripled during the same period."
The authors argue politicians should be looking at a number of policy options to improve Canadians' quality of life, including a universal basic income (something Ontario is planning to experiment with shortly); a "pan-Canadian" education strategy; and "universal access" to leisure, arts, culture and sports.
The index is produced by dozens of researchers focusing on specific areas of wellbeing. This is the third edition of the index, which first launched in 2011.
Read the full article at The Huffington Post:
http://www.huffingtonpost.ca/2016/11/23/quality-of-life-canada-index-wellbeing_n_13171090.html?ncid=fcbklnkcahpmg00000011