Fall 2021
YGN
So I had an idea for a card game a few weeks ago and decided to use the jam to try and launch it. Well after two false starts deciding not to sacrifice my entire weekend to it, I have a usable version of the first card.
Team Members
Without You 
A multi-genre game based in a magenta world with lots of artwork, powered by a 14 year old programmer. The protagonist, Bubblegum, is on a sudden quest to understand that he/she can't live without these classic masterpieces.
Team Members 
Julian O'Grady
Ellisa Hourany
Karl Wunsche 
Deeba
Simran
Iqra
Spirit Mayhem
In Spirit Mayhem, you play as a witch travelling through an afterlife filled with spirits. You are under constant attack by evil ghosts, who cast powerful magical spells to defeat you. However, you can ally with good spirits to borrow their magic powers to fight back.
The game levels and all the spells are entirely procedurally generated. There's no way to predict what you'll run into next, and you don't even know what your own spells do until you use them. You'll have to keep learning how to use your spells and how to evade the enemies' spells for as long as you play.
Team Members
Yue Fang
Santiago Musella
Rory Soiffer
Subbayal Yusuf
Leave Me Alone!
Fight off the white blobs ruining your alone time.
Team Members
Session 
DO NOT ATTEMPT IF YOU HAVE A DIAGNOSED HEART CONDITION.
NEVER ATTEMPT SESSION BETWEEN 3:37AM AND SUNRISE.
MAKE SURE YOU ARE THE ONLY WAKING MEMBER IN YOUR RESIDENCE.
DO NOT ATTEMPT SESSION WITH ANOTHER PERSON.
MAKE SURE TO FOLLOW THE STEPS CAREFULLY.
The presenter takes no responsibility for any form of harm, destruction of properties, or illness caused by following the session instructions.
Attempt at your own risk
Team Members
Winter 2021

Lost, PANIC & Found
Lost, PANIC & Found is a grid-based puzzle game. The star of the game, Lucas K. Hardman (Luke King Hardman), lost his briefcase containing all of his stuff in a sewer. Luke must make his way to his stuff without falling in a hole or hitting his head into a wall. The problem is, Luke panics by the second, leading each movement to increase Luke's speed by 1 tile. Can you help Luke find all his stuff?
Team Members 
Jintae Kim
Maximo van der Raadt
 
Lost Wizards
Embark on a journey to find out the fate of the lost wizards and the spectral castle in a procedural rogue-like platformer.
Team Members 
Oleksandr Voronin (Programming)
Ekaterina Berezina (Art)
Denis Chikunov (Level Design)

Memories of Her
She is gone, but you cannot accept such a fact. You will find her, one at a time, picking up the bare memories that made you feel so connected. Go deeper into your mind, closer to those precious memories that you want to forget. You know this is dangerous, it is a loop after all. Oppressing those memories would lead to only danger, but you want her back. Find memories in the depths of your mind to become stronger in this Randomly Generated Roglite where you fight the memories of your past. Use your WASD to navigate, M1 to shoot and wait to reload. The game becomes more difficult over time so make sure you progress quickly and carefully.
Team Members
Allan Kong (Lead)
Hemal (3D Models and Cutscene Rendering)
Kairui (Music)
Wake 
In this game you play as a person in a strange environment and you must try to escape. As you move from one level to the next you lose your abilities like being able to hold stuff and even your sanity. As you run along you are being chased by a never ceasing foe that seems to know your every move. Can you outrun this monster, or will you lose yourself before you can escape?
Team Members 
Muskoka Jack
Kieron
Sawyer
OWO
Lose, find, lose, find. You are a duck who's finding her lost ducklings in a maze, but you forgot how many ducklings you have! You can only travel so long in this huge cyber maze, how many ducklings will you leave with?
Team Members
Phil Downey

Adam Shepley

David Dufour
Partly Magical 
The objective of our game is to find lost items. It is a card game, in which each card has a picture of an object on it. Blue cards are objects that you lost, and orange cards are ones that you found. On your turn, you randomly generate the name of a person in the group by spinning a spinner. You pick an orange card, at random, from that player. If the card you got was one that matches a blue card in your hand, then you have successfully found a lost object! If not, better luck next time! Each player takes turns, until one person has found both of their lost items (found orange cards that match their blue cards).
Team Members 
Drip Bayless: The Lost Drip
You are Skip Bayless aka Drip Bayless, the drippiest sports commentator in the world. You just threw a big party celebrating the LA Clippers win over the LA Lakers, and it seems that some of your friends have lost their Drip. You set out on a mission to help them find their drip. The game is a text-based decision game created in Twine 2.
Team Members: 
Jerry Chen
Raza Ghaffar
Christopher Chiu
Jimmy Huang
Ryan Soares   
PB&J
Everybody in life is searching for something, but occasionally, things that were already in our possession become lost. By helping the castle's inhabitants find what they've lost or seek for in life, maybe you can find the lost PB&J recipe. It has been passed down the generations of the royal line. Find it, lest you are punished by the Prince, whose wrath is focused on you, the chef! With your only material possession, an apple, make trades with other characters to find out who is in possession of the PB&J recipe. Whilst escaping doom, enjoy 100% original sprites, backgrounds and music crafted with love.
Team Members 
Alvina Cheng (Background Art)

Amanda Ding (Music)

Edwin Lee (Programmer)

Jenson Chan (Programmer)

Krystle Tang (Programmer)

Rachel Xu (Character and Object Art)
Lost and Found 
Escape the room in 15 minutes. The things are lost, and you must find them.
Team Member: 
Tossed and Found
A platformer where you toss and find (teleport to) a shot instead of jumping. Made in Godot, this 2D platformer uses teleportation instead of jumping around. There are no objectives, just some little playgrounds to try out your abilities.
Team Members 
Fall 2019
Tower Pew Pew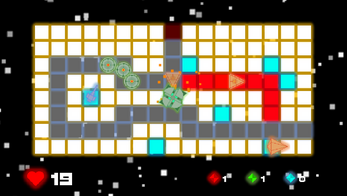 https://jinghaoyao.itch.io/tower-pew-pew
Welcome to Tower Pew Pew! A 2D top-down tower defense game with a twist! In this game you "craft" towers out of materials that you receive at the end of every wave.
There are currently 5 levels in the game, and 37 total waves. Towers are reset and the map is changed when progressing in between levels. See how far you can get, or beat the game!
Made in 48 hours at the Fall 2019 GI Game Jam at the University of Waterloo.
Team Members:
Kendra T.
Jing Y.
Harry H.
Kitty

Second-Shark Perspective
Team Members: - @Cashilts : Shark Models - @:Pasqualy : Everything else Contact Info: sean.joseph.benoit@gmail.com Short Description: A 2-player game of tag where both players are sharks. First shark to hit their opponent's body with their nose wins. By the way, it's second-person perspective. Source Code: https://gitlab.com/sjbenoit/gijamf19 Attributions: All audio sourced from http://www.orangefreesounds.com/jaws-theme-song/
The Entity
Lead Developer, Lead Artist: Shawna Poechman
Lead Writer, Lead Designer: Larissa Ulitsky
Contact Information: shawna.poechman@gmail.com
Tools Used: Ren'Py Visual Novel Engine, The Sims 4 (for graphics), Adobe Photoshop, Git
Game URL: https://somniarre.itch.io/the-entity
Game Description: You are a detective named Kate, searching your elderly neighbour's café in a pointand-click adventure for her lost wedding ring. What you find is something much more sinister… Explore your neighbour's café and the floors below it in a fun and entertaining mystery! Why has the café been abandoned for the past two weeks? Why is nothing up to code anymore? What is wrong with the cheesecake in the basement? Is it even a cheesecake at all? And has that barista really built a portal?
Attributions: Music from https://filmmusic.io "I Knew a Guy" by Kevin MacLeod (https://incompetech.com) License: CC BY (http://creativecommons.org/licenses/by/4.0/) "Gathering Darkness" by Kevin MacLeod (https://incompetech.com) License: CC BY (http://creativecommons.org/licenses/by/4.0/) "Lightless Dawn" by Kevin MacLeod (https://incompetech.com) License: CC BY (http://creativecommons.org/licenses/by/4.0/)
Unknown Ocean
Team: * Markus* Contact Info: marcus@abicht.ca
Short Description: A game I made during the UW GI Fall 2019 Game Jam. The theme was Create the Unknown. The game will create and show you a random 3x3 pattern of blocks, and your goal is to create it from memory, but you can't see where your character is or where the blocks that you've placed are. The mode that you're in is displayed on the top-right of the screen. You can switch between modes by pressing Z. There are* 3* modes: Move: Use the arrow keys to move around. Press X to reveal what you've built then press the right-arrow key to see if you've won. If you didn't get the pattern correct, it will reset the building area, but with the same pattern. Select: Use the left and right arrow keys to switch between blocks in the hotbar at the top of the screen. Build: Use the arrow keys to select where to place the blocks. You can place blocks in the 4 tile spaces around the player. You can use this to figure out where the player is. Press X or the left mouse button to place a block.
Source Code: (If you have pico-8 you can use the image) Github: https://gist.github.com/Xzer0X/9958a85eb3bb3429e38f689c1fd5592e
Lizard Wizards Learn to Spell
Aaron Reid, James Graham-Hu, Robert Graham-Hu, Marcus Hum, Robert Graham-Hu, Robbie Meyer, Thomas Storwick Contact Information Robert Graham-Hu: robertgrahamhu@gmail.com
About Knowledge is power. By extension, being literate is pretty important. Lizard Wizards Learn to Spell is a four player online battle arena. In LWL2S, play as a lizard aspiring to become one of the best wizards in the world in a fight for knowledge. Learn new spells by picking up scrolls and cast them deciphering their contents with the power of your keyboard. Casting these spells is the only way to figure out their contents, as these lizards have are as new to the profession of wizardry as you are. Uncover the unknown by creating powerful magics to become the most powerful lizard wizard of them all.
Source Code https://github.com/johnnybib/game-jam-fall-2019
Blaze Dash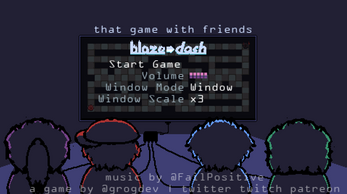 Blaze-Dash is a fast paced head to head arcade style game about dashing through a grid based level, covering the ground with as much as your colour as you can, while covering as much as your opponents color.
P1: WASD  / (A or D to confirm in menu)
P2: Arrow Keys / D-Pad/Analogue Stick on 360 Controller
---
Dev/Art - @GrogDev
Music -  @FailPositive (SoundCloud link to games soundtrack!)
Sigil Hunter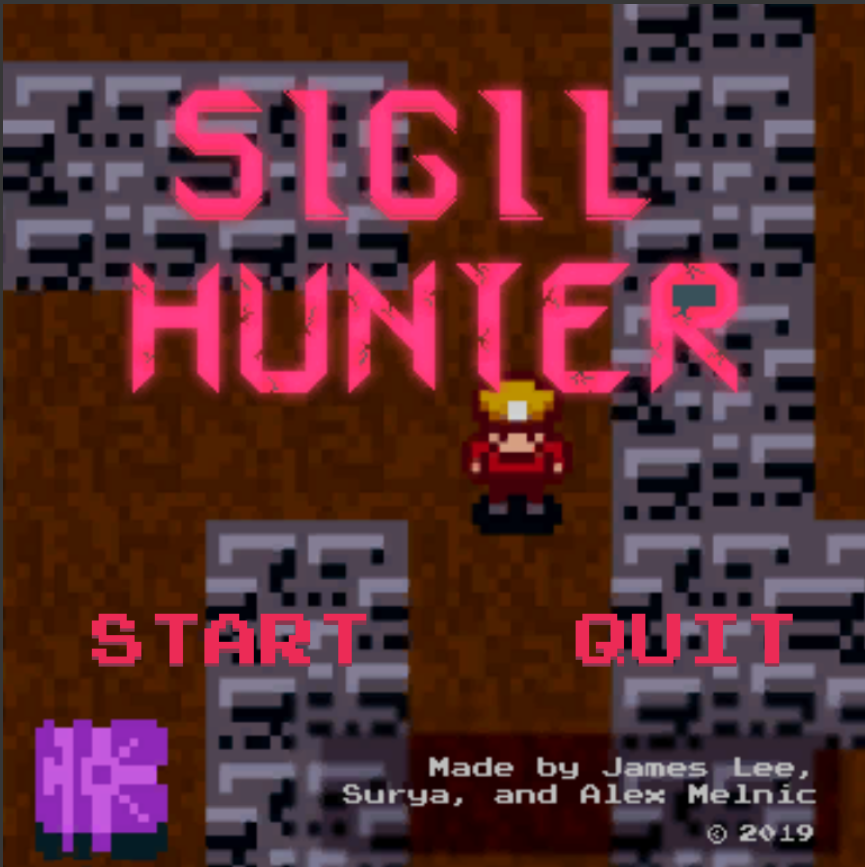 This game was made for the University of Waterloo's Fall 2019 Game Jam, with my group members Surya and Alex Melnik (@Saucy_B01) !
You are trapped in a dungeon with nothing but your wits and your handy combination belt.  Play through 4 different levels, and collect different relics during your journey. Interestingly, certain combinations of relics result in special abilities which may help you reach the escape!
Balance Combat System and Unpredictable Battlefields
Group Member: @Cluedrew Short Description: Balance Combat System: A pen-&-paper role-playing system ment to capture the feal of a run-and-gun action movie instead of the clash of blows generally moddled by the HP systems. It also is tuned for modern setting with guns tries to fit them in a gene approprate (although not realistic) manner.
Unpredictable Battlefields: A stratagy game not so much about carefully preforming a plan and more about figuring out what you can do with what dice you have to work with this turn. Everything you can do and how effective it will be to do it, is decided by the dice you roll at the beginning of every turn.
Dino Planet
Ron Li, Nina Yang - Ron Li - runlin.li@gmail.com; Nina.Yang ssssrxdd@gmail.com
You are a dino looking for your dear mother who has gone missing! Hop around the planets picking up eggs to upgrade your stats and explore the different planets!
https://github.com/RunEMC/PlanetGame
Dino using from itch free game assets
Dungeons & Dragging
https://ludamad.itch.io/dungeons-dragging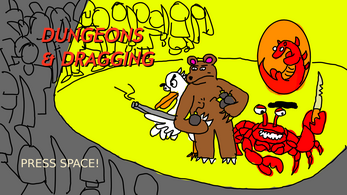 Protect the dragon egg! Unlock monsters in an endless series of waves! Drag to gang up on enemies!

Controls:
A - Place a Krabnife
S - Place a Duckshot
D - Place a Bombear

Hold mouse - Drag ANYTHING!
Shift + hold - Drag ANYTHING in a group!

Programming , design and art by http://github.com/ludamad
Art and programming by https://github.com/IanELang
Hit-ESC
Tina Chan, David Dufour; Tina (tinachanmakes@gmail.com); David (dadufour@uwaterloo.ca)
2000's throwback point and click room escape/dating sim/shooter/driving/puzzle/life simulation, made in PowerPoint.
Fall 2018
Jewelled Caves by Elder Forces
"The game's objective is to match rows of three or more coloured blocks. The game play is based off of Bejewelled. I am using Godot Engine. The game itself is not very dynamic. However I have never used Godot before so I am changing as I learn. Which is the real purpose of this project" from game creator, Team Elder Forces.
Monkey Miner
Team Members: Christiaan Oostenbrug, William Harvey, Lucas Van de Mosselaer
Contact: lucvdm5@gmail.com
Description:
Assume the form of an Ape and race to the beat of your simian heart through the earth digging your
own tunnel. Along the way you will encounter traps, abilities, and many ways to mess with the rival ape.
Be careful though, the walls are constantly swapping, and the tunnel ahead certainly may change.
This game features a randomly generated stage for the players to race through. The placements of
blocks, powerups, traps, and more are the same for both players. However, the stage will dynamically
change with time and depending on what the players decide. Monkeys can cause cave ins on the rival's
side, throw TNT to attempt to stun an enemy or clear rocks ahead of you. The game is modulated by a
global beat that dictates the monkey's speed. Every 4 th beat blocks from the monkey's caves will swap
randomly. Be on the lookout for incoming TNT, traps ahead, and most of all watch your oil meter.
Without oil you wont be able to break any blocks, so keep an oil barrel near by.
This game is a 2-player racing and mining experience. Play together on one computer!
The Inadequate Bowser
Team Members:
Quinn Hodges - Clutch Master, Naman Verma - Asset Designer, Raghav Sharma - Coder
Contact info: QHODGES@UWATERLOO.CA
Description: This game is a reverse Mario game, in which Bowser is trying to rescue Bowsette from the evil Waluwigi and his baby Mario minions. It's a classic platformer in alternating bit rates.
Go Go Goose
You can play our game "Go Go Goose" at https://jonnydark.itch.io/go-go-goose.
Team members​: Project Manager: Andrew Loft / Lead Programmer: Larissa Ulitsky /
Sound And UX: Xinye (Jamie) Hou / Art and Animation: Jonathan Barker
Contact information​: Contact Jonathan (Artist) jonthan@inkrobot.ca
Short Description​: GO GO GOOSE is an platformer where you are a goose stuck in a
computer. Use the power of Colour to manipulate the environment and escape!
Longer Description​: Use the mouse to select the level. Use AWSD And "J" and "K" Keys to
navigate environment.
Source Code​: Play online! https://jonnydark.itch.io/go-go-goose
Attributions​: Music Credits: Music by Ozzed from www.ozzed.net Used under creative
commons. Sound Effects:
http://soundbible.com/
https://freesound.org/
Used under creative commons.
Visual Documentation​:
In Go Go Goose you are a waterfowl stuck in a computer. You must navigate the world by
dynamically manipulating the platforms around you. There are four levels featuring a variety of
puzzles, plus a virtual free level where you can run all you want.
Twin & Goose
Member name:
Yuankai, Bruce, Frank, Shurui, Kent
Contact Information: ykgu@edu.uwaterloo.ca
Short description:
This is a where you control 2 characters that shoots projectiles to complete a total of 4 levels.
You can use tab to alternate between the characters. The characters in this game that have
unique abilities, one character has the ability to double jump and shotgun spray, another
character's bullets have the ability to have infinite range, and can go through walls. Every level
has a different terrain, and you can decide which character is best fit for the current terrain. The
last level has a boss, and the ultimate goal of this game is to defeat the boss.
Time Tower
Team Members: Nathan Chan, Dorian Benninger - nathan.chan6196@gmail.com
Time tower is a pseudo-rogue-lite survival bullet hell game. Enemies in the tower dungeon exist
in four different time streams – seek them out and defeat as many as you can before you die.
But watch out, time streams can merge and suddenly you may find yourself in a dire situation!
Gopher Goose
Team Members: Marvin Pafla, Daniel Lyon, Mathieu Gilmour , Chris Kotsopoulos
Contact information: dlyon@uoguelph.ca , mpafla@uwaterloo.ca
Short Description: Gopher Goose is a simple platformer about a gopher goose hybrid animal
traversing foreign lands and defeating enemies along the way. The Game has two basic
platformer premises, the goose's flying; which allows for aerial platforming, and the gopher's
digging; which allows for underground platforming. The game is based around dynamically
switching between the two to get through each level. This unique game follows the narrative of
Gopher Goose as he runs, digs, and flies away from foxes, drills, planes, and much much more.
The end of each level is symbolized with the "Gopher Goose Sign" which continuously gets
more and more difficult to find.
Visual Documentation:
https://i.gyazo.com/e4531d97430998d83646b4234c204858.mp4
https://gyazo.com/c34a70b23326ce496a38ddbdc3409f0a
https://gyazo.com/793ebbddb977b73fb3b898859d524544
https://gyazo.com/e81972f343c004547c1a7061ecdebdef
https://gyazo.com/9ab2a76565c8440e41d0525649b29737
The Electric Share
Aaron Reid, Daniel UtviCh, James Graham-Hu, Marcus Hum, Robert Graham-Hu, Robbie Meyer
Contact Information
Robert Graham-Hu: 587-223-1960, robertgrahamhu@gmail.com
Description
Your charge is your health and your power. Run to increase your charge and to gain new more powerful
abilities. Use your newfound power to shoot the other players and transfer your charge to them. If the charge
they gain places their charge over a hundred percent they are grounded and removed from play. The last player
standing wins!
Source Code
https://github.com/RobertG-H/TheElectricShare/
TIANHUO
Team Members:
Jeffrey Forhan, Haoda Fan (i think), Leo Bao
Contact Information:
l8bao@edu.uwaterloo.ca
Short Description:
TIANHUO is a 2 player game where the 2 players battle as wizards. Players may move around the map and try to hit the opponent with spells. Spells are invoked by entering a "code" to dictate which spell is cast. Larger spells will cost more mana than smaller ones. Kinda based on Invoker from Dota2

Source Code:
https://gitlab.com/leobao/tianhuo
Janky Snake
Play here https://asemahle.github.io/GIJamFall2018/
Team members
NAME: ​Aidan SE Mahler
BIO​: Tall. Not so tall that you would say "wow he is tall." Just tall enough that you might refer to
him as "someone who is kinda tall".
Contact information (required)
Email: ​asemahle@edu.uwaterloo.ca
Short Description
Control a snake! Complete obstacle courses! No sounds or pretty pictures to distract you. This
is serious business. You'll need to balance slithering and swinging to achieve true snake
nirvana. Play it in your browser here: https://asemahle.github.io/GIJamFall2018/.
Coded on a chromebook. Uses Matterjs for physics, and levels were created using the Tiled
editor.
Longer Description
When I heard the theme "dynamic" I decided that I wanted to make a game that incorporates a
dynamic system. Essentially, some kind of system where each component has an effect on the
other components, creating complex behaviours.
Physics and springs matches that description, so I decided to make a game incorporating those
things.
I had never made a physics game before, so dove headfirst into Matterjs (a physics library for
javascript). I wanted to make a spaceship game where you carry a heavy load attached by a
spring. But that game was TERRIBLE and NO FUN and the spaceship-spring combo felt like a
SNAKE!
And so Janky Snake was born (ノ◕ヮ◕)ノ*:・゚✧
I spent all the time tuning the controls. Sprites and music didn't make the cut. Also wanted to
add moving platforms and other fun things... BUT THAT'S FINE. The game is FINE. Maybe
even FUN... Please try my game thx.
Source Code
https://github.com/asemahle/GIJamFall2018

Tools used:
- https://github.com/liabru/matter-js
- https://www.mapeditor.org/
Timesick
Team members
AC: Pursuing a master's in experimental digital media. They have a fondness for roguelikes, game design and drawing pixel art.
Brendan: Brendan is an undergraduate software engineering student at the University of Waterloo. He has a passion for game design and software development, and enjoys playing roguelike and story-focused indie games."
David: I'm david. I'm in math (combinatorics and optimization) with a CS minor. I am interested in programming games because I can see my ideas come to life and I feel that I have more control over my game than games that other people made.
FengWei: I am a second year computer science student. I've always been interested in game balance and design of competitive games and this game jam gave me an opportunity to see what it's like to work with others towards that goal.
Contact information: AC.atienza.12@gmail.com
Short Description:
Timesick is a roguelike about a hero who is stuck oscillating between time streams. You must utilize their past and future selves to locate and recover the chrono gems scattered across what remains of reality. Your past follows you as a trail - you can alter time to defend against the foes of the present, or to return to where you were.
As you traverse the desolate wastes of timeless deserts you will remember your capabilities and increase your synchronization with the fractured reality you run from. We will implement upgrades include chrono loops, stasis, deeper time trails and more.

We wanted to capture dynamicism with the shifting nature of roguelike games. To emphasize dynamics we started with the prompts of high mobility and time control. Everything fell into place from there.
Cure Run
Team Members:
- Cassidy Hilts
- Sebastian Gaweda
- Sean Benoit
- Xianggu Liu

Contact Info:
- Sebastian Gaweda sgaweda@gmail.com

Description:
A runners game, the objective of the game is to collect ribbons for points and avoid collisions with obstacles.
Ultimately this game is meant to raise awareness for breast cancer and raise money through advertisements and donate them to cancer related research.
Source Code:
https://gitlab.com/sjbenoit/curerun 
BlockPusher
Team Members:
Christopher Duong, Hao Tian Bai, Ao Shen, David Lee, Yang Lu
Contact Info:
Hao Tian Bai (haotian.bai003@gmail.com)
Short Description (100-250 words):
BlockPusher is a puzzle game where the player must solve a series of puzzles in 2
types of environments in order to reach the flag, which is the end goal. The player is
able to push around and rearrange the blocks to create new, dynamic environments in
order to navigate to the flag. However, if a block falls onto a character, they get crushed
and dies. In addition, players must avoid spike hazards and eliminate or avoid enemies.
The environment of each level is always broken down to two types. The first type, a side
scroller, identifiable with the blue background.Majority of movement here is restricted to
the x-axis. The second environment type, marked by the green background, is a top
down view, allowing your character, as well as anything other objects in the
environment, to move in both the x and y axes without needing to be supported by
terrain. As such, the player must smartly use the two types of environments in order to
navigate through environment hazards and enemies to complete the goal.
Attribution (Opt.):
Music by Exurb1a - The Tesseract
DuoNamics
Makers:
Vivek Rampersad,
Jihoon Han
vivekrampersad@gmail.com
Duonamics is a platformer with two main characters. Ideally the game would be a co-op experience. Each character would play slightly different from one another. For this game, we were able to make 2 levels for 1 character and 3 for the other. At the time of writing this press release, the separate scenes / projects have not been integrated as yet.
Other key development ideas that we did not have time to implement would be to have game features and mechanics change every 30 seconds. Sometimes the change would be cosmetic. However other times, player controls would switch. Maybe you would want to aim for lava instead of dry land. etc.
Free Unity Store Pixel assets taken from
BayatGames
PennyPixel_2D Unity Demo
Sunnyland assets
Sunny Land Forest Assets
Otternament
Team members: Adam Leung (code/design) & Karina Ferrera (art/otter puns)
Contact information: (Adam Leung) Email = centribo@gmail.com; Website = centribo.com
Short Description: 4-8 player game full of otters and fun.  Go against another player to answer a question/prompt.  The remaining players vote for their favorite response.  The player with the most popular votes at the end of each series of battles wins!
Source Code: https://github.com/Centribo/2018-Fall-GI-Jam
Galactic Pizza Quest
https://addlib.itch.io/galactic-pizza-quest
Galactic Pizza Quest is a game made by Team Racket Raccoons for the Fall 2018 GI Game
Jam. The team consists of Erik Arndt, Bill Liu, Jamie Sebastian, and Clarice Osmond. You can
contact Bill Liu at liubi1996@yahoo.ca for more info.
You play as a proud delivery alien for Papa ⌇⊑⋏⍜⍀⎎'s Pizzeria. You are
tasked with avoiding asteroids and planets to put pizzas in the mouths
(or other food intake organs) of hungry aliens. Luckily, you just so
happen to have the power to manipulate the gravitational makeup of the
universe. Use this power to switch a planet's gravitational field from
attractive to repulsive, and let these planets push and pull you to
your goal!
The game was created in Unity, with assets from the Unity Asset Store and Open Game Art, as
well as several custom made sprites and custom music.
Heap-y Restaurant
By Daniel Mak (dchmak@edu.uwaterloo.ca)
- Second Year Computer Science Co-op student. Tools: Unity, Paint.Net, Bosca Ceoil
Description
The player acts as the owner of heap-y restaurant. The restaurant is quite strange - it has no space to
serve any customers! However, there is a mystical bank inside the restaurant (yes, INSIDE) that the
owner can borrow the one thing the restaurant is missing - Space. (For those who haven't guessed it
yet, the bank is the heap) A good news is the interest is 0%! A bad news is there are maintaining
costs. At the end of the day, all borrowed space must be returned. Players can click on any usable
tile to let customer occupy the space. After the customer finishes the meal, they will leave
automatically, and you can earn your deserved cash and improve the rating a tiny bit. Sounds
incredible but be careful. If you click on an occupied tile, the customer gets annoyed, and your rating
goes down. Returning spaces while someone is still using also angers the customer, and you will be
fined doing such a dumb thing. Moreover, do not let customers in queue wait too long, or else they
get impatient, and not only you won't get income, but you also lose some ratings.
Source Code: https://github.com/dchmak/Heap-y-Restaurant/releases
Attributions:
- https://freesound.org/people/Reitanna/sounds/215365/
- https://freesound.org/people/kiddpark/sounds/201159/
Dance of the Flower Princess
https://youtu.be/sKrrUKxYsaE 
Play in your browser (might run slowly): http://love-game.net/flowerprincess
Download for windows: http://love-game.net/flowerprincess.zip

By Sylvie (sylvie.l.davies@gmail.com)
Description: Avoid everything and complete the dance.
Weaver of Stars
Team member (solo): Stanley Huang
Contact Information:
Email: sj4huang@edu.uwaterloo.ca OR S33799@yahoo.ca
Short Description:
This is less a game and more a proof of concept for a larger idea. The main gimmick is a cord which is attached to the main character, controlled by the mouse. This proof of concept, once refined, will become part of a planned top-down action RPG with a sewing/star motif (i.e "weaving a broken sky back together"). For now, the demo covers movement with the cord/player, showcases the ability of the cord to block projectiles, and shows a possible ability of the main character to plant needles in the ground to serve as posts for the cord. Currently, the gameplay feels clunky and there is a nontrivial amount of clipping and other physics bugs, so serious streamlining is required before this can proceed.
Attributions: This demo uses the Kenney Roguelike pack 1 assets for the tileset.
Space Pew-Pew
Team members:
Esther Jin: I'm a first year Computing and Finance student! I've never made a
game or been to a game jam before but I'm excited about this experience!
Tony Ilersich: I am a first year Computing and Finance student. I have long been
passionate about game development, and this is my fourth jam.
Victor Wang: I am a first year Honors Math student at Waterloo. This is my first
game jam and my first time using Unity and C#.
Jing Yao: First year mechatronics student at uwaterloo. I like playing video
games and this is my first game jam and first time making a game.
Annie Zou: I am a first year student in Systems Design Engineering. My
experience in video games extends to Candy Crush….and that's pretty much it
Contact information:
name: Tony Ilersich
email: antonio.ilersich@gmail.com
phone: (416) 831-5603
facebook: Tony Ilersich
Short Description
Space Pew Pew is a dynamic space shooter game with a twist! Not only does the player have
to dodge enemy bullets and destroy the ever-changing waves of advanced enemy patterns, but
they must also deal with the limited amount of ammunition. With three different types of attacks
but a limited carrying capacity of 9 shots, the player must choose their strategy, hunt their
ammunition, and go on the offensive to eliminate alien invaders. Choose wisely, missed shots
will not be regenerated, and enemies WILL fight back. Endure all 63 levels of chaos and
madness to win the game... if you can…
Attributions
HeatleyBros. YouTube, 9 Aug. 2015, https://youtu.be/Fa_9fh_vML0
Angry Farmers
Team Members
Ata Dogan 
Tibi Leonov 
Peter Lu 
Sukhraj Johal 
William Lu 
Contact Information: atadogan1@gmail.com
Short Description
A four-player competitive physics-based party game where you play as an angry farmer and try to grow as many crops as you can. The farmers are fighting for the most fertile land around. Sabotage other farmers by chopping down their crops. To maximize efficiency, farmers spin around in an angry craze to plant seeds and cut opponent crops as quick as possible.
Source Code
https://gitlab.com/atadogan1/farm_cutting
Attributions
The project was made in Unity and all the assets were made from scratch. 
Mr. Goose Dressup
https://orwelle.itch.io/d4chan 
Team members: Tina Chan
Contact information: lt2chan@uwaterloo.ca (Tina)
5) Short Description (required).  Honk for clothes.  An idle/clicker dress-up game.
6) Longer Description (optional). N/A
7) Source Code (Optional): N/A
8) Attributions (Optional): Background music by Bensound.com
Tetradefense
Team members: Daniel and Antonio - danielbeer1376@gmail.com
Players must defend two gems from a barrage of deadly mines by dropping a variety of blocks throughout the level. In some levels, the players will be assisted by an automatically-firing turret that locks onto the deadly mines. http://github.com/Pix3141/GI-Jam-Fall-2018-Assets
Colour me Calm
Team members: 
Stephen Hwang, Jayson Yan, Yu Heng Su, Josh Du - jj2yan@edu.uwaterloo.ca
Colour me Calm is a simple relaxation game that lets you upload your own images select a dimension size and it creates a paint-by-numbers canvas for you to colour in.
https://github.com/Jaysonyan/JammyJams 
POKEJUMP!
Team Members: Jessie Jin & Adriena Wong
Contact info: jessie2nuo@hotmail.com
Short description: Infinite platform jump game. Avoid trainers by throwing pokeballs at them.
PACKRAT
Nate Melo - Sole Member
Hobbyist game developer with an interest in every aspect of Game Development trying to prove to Mom that all the hours spent on the computer as a kid were worth it.
E-Mail: ​Nate.Melo@hotmail.com
Phone:​ (226) 218-4682
Packrat is a 2D "arena" survival game where you must use the limited resources
that spawn into your world to build defences, hire mercenaries, and avoid the freakin' bees!
All graphics and sounds were made by Kenney. (www.kenney.nl)
Malware Marathon
Cristiano Chelotti and Timothy Haskell
btmhaske@edu.uwaterloo.ca
czchelot@uwaterloo.ca
Our game is a third person platformer focusing on fluid and dynamic movement through an obstacle course. You play as the second AI created for cyber security, and you were made by the first cyber security AI; TIM. It's his first day at work and everyone and everything is trying to kill him. That's why he created you and the endless void you find yourself in. The reality he made for you hides you from the hackers and also functions as a world for you to move around in. Your job is to seek out and destroy all the manifestation of malware that have got through TIM's defences. Along with basic movement abilities you are given a teleportation disc that can ricochet off surfaces and a tractor beam that pull and pushes things away from you. Make your way through TIM's demo to prove you're worth and viability.

https://drive.google.com/file/d/1P-MtPGyOKYBn2ZiJZaOBir90xVG86isU/view?usp=sharing
Spring 2018
Fowl Play
Team members:  Amy, Art; Sabrina, level design; James, Music; Robyn; Reese, animation and player movement. 
Fowl Play is a story driven puzzle-platforming game following the adventure of a goose named Benny and a young boy named Adrian. The puzzles are based upon the cooperation between Adrian and Benny, and their differing capabilities. 
Adrian is considered the brains and hands as he is able to craft together items, open doors and interact with various objects and tools.
Benny is unique due to his advanced mobility as he can squeeze into small spaces, jump great heights and retrieve objects for Adrian to use. Together these two journey through a dangerous world allowing their bond to flourish, growing together and coming to know each other as brothers. 
Panache!
Team members: Sean Benoit, code, design; Andrew Beach, art, design consultancy
You are a musketeer of great panache! You must defeat your opponents to acquire new flourishes which will help you defeat more opponents. Defeat as many opponents as possible before you are overwhelmed. Become the best musketeer you can be! With panache!
Portobello Pilgrimage
Team members: Daniel Utvich, Robert Graham-Hu, Marcus Hum, James Graham-Hu
Every year portobello mushrooms must make their way down into the  dank caves of cremini to spread their spores in the fertile soil at the bottom. However, this journey is a dangerous one. Chungus the insatiable slug takes this opportunity to have a feast of portobello mushrooms who are on their Pilgrimage to these sacred lands. Escape Chungus and fulfill your destiny as a Portobello in Portobello Pilgrimage!
Horticulture
Team members: Nathan Chan, plant behaviour; Sylvie Davies, plant character and music; Cassidy Hilts, procedural generation, UI elements; Xianggu Charlotte Liu, split screen, rain, plant design; Alex Melmic, biome tilesets, title screen artwork; Chris Taylor, plant research, initial plant design
Horticulture has local multiplayers compete to plant, grow, and harvest the best plants in a procedurally generated world of biomes.  Growth of plants can be affected by the world's temperature, sunlight, and how well you water them.  Strategize to make the best plants quickly and soar above your competitors to grow the best plants.
Floral Explorer
Team members: Daniel Mak, Brandon Brisbane
You play as a lone gardener who is tasked with bringing the deserted park  back to life. Walk around the park and water the ground using your hyper watering can to rejuvenate nearby grass. You will also find flower seeds hidden in the dirt. Water those enough and they will sprout and give you some more time to work with. You also need to manage the water level of the can. It needs to be recharge using the well in the center. Your job performance is determined by how much green you brought back and the number of flowers you help revive.
Right click to walk around and left click to use the watering can.
Be the Bee you Want to Be
Team member: Denis Cormier
You are a bee, and you slept all winter. Buzz around and enjoy the scenery, but avoid the evil black flies that are out to get you!
Flower Defense
Team members: Sajid Rahman and Shadman Hassan
Flower Defense is a game about macro management as well as micromanagement. The enemies must be killed while the flower's resources for upgrades must be managed as well.
You play as a leaf set out to protect his home flower from the evil blobs that come to attack it. You have a shovel as your only weapon, which you can swing at the blobs. The blobs come in different forms, such as passive blobs, eating blobs and flying blobs. Passive enemies don't attack the plant, eating enemies attack the plant from the ground and flying enemies attack the plant from the air.
The plant has a set amount of hp, all of which regenerates slowly over time. You must kill the enemies before they reach the flower to harm it. You must also kill enemies to collect resources to level up the flower. When you have enough resources, you must go to the top petal to deposit and level up the plant. There are 5 stages of the plant. The aim of the game is to get to the highest level of the plant without letting it die.
 Winter 2018
Electrocat! 
Team members: Sylvie Davies 

Electro Cat is a cute puzzle platformer! You are a fluffy little kitty with the power of electricity. Transform into a spark to pass through metal objects! Jump, zap and push blocks to make it through each level. There are 3 tutorial levels and 5 tricky challenges! Play it in your browser at http://love-game.net/electrocat/
Hugh Jass' Construction
Team members: Daniel Utvich, Robert Graham-Hu, Marcus Hum, James Graham-Hu
​
It's a fight against I-beams in a game where you must create your own beams to walk on while trying kill your opponent by knocking them down to the spikes below.  
Mountain Hugh and Forman Jass are ex-best friends who run a construction company together.  After Mountain Hugh broke Forman Jass's favourite hammer they begin to recklessly shoot I-beam transmitter lasers at each other dangerously materializing REAL iron I-beams.  It's a survival of the best construction worker. Who will get bisected by an I-beam first?
radioparty
​
Team members: Jiayang Liu, Nicholas Parkanyi, Andre Ostrovsky, and Brian Kellett
The year is 2016. The government has banned all music. Parties can't survive without music, so it's up to you to provide the party downstairs with the pirate radio signal from above. Hold your antenna high, and don't get struck by lightning! AD or arrows: move left/right. Z: jump. X: crouch under birds and avoid lightning. Shift: restart. Alt+F4: quit.
Human Intercepted
Team members: Jeremy Olsen, Kai Olsen, Nolan Strolight​
A cooperative party game where you have to outsmart the computer by transmitting your own RGB signals.
Boats, Boats, Boats
Team members: Andreas Reich (Stockholm, Sweden); Jan-Cord Gerken (Magdeburg, Germany); Gerd Schmidt (Waterloo, Canada).
A typical Friday afternoon. You and your roommate just happened to have some boats, too much spare time and a bathroom sink. Also, you have your flag floating atop the water.
3… 2… 1… BOAT!
You nudge the water until your roomie's boats sink to the scary depth of your bathroom's sink where no light has ever shown. Sink about it!
It is said that once there was sponge trying to clean it, but it has never returned. On a lone Island near the sink the locals tell the story of a giant duck, devouring every pious seaman who ever set sail on those cursed waters with its orange beak of terror.
A Second Chance 
Team members: Vaibhav Kapoor, Divit Sharma, Anirudth Iyer, Nicholas Robinson
In the distant future, humanity is on it's way to extinction. There is only one opportunity to salvage this world, by preventing events in the past through the aid of the future. Two scientists build a time machine, and it's up to our two scientists to save humanity. One scientist will play in the destroyed future while the other will play in the lively past. They must work together to change both worlds, as the past can't change itself without aid from the future and vice versa. Planting a seed for a tree in the past will grow a scalable tree in the future which the future scientist must use to their advantage. The scientists will have to collect various items throughout their world which they will need to save the world. The worlds will be procedurally generated every single time, so there is a fresh challenge every single time. Will you be the one to save planet Earth?
Spread 
Team members: Haowei Guo, Howell Hou, George He, Matthew Liu
The player controls a zombie and he will try to turn other humans into zombies and spread the zombie virus.
Fall 2017
My LittleBigPlanet
​
Team members: Kai Bornemann and Victor Jifcu
You're an alien who has crash landed onto an unfamiliar planet. Push buttons tointeract with your environment.
Shuriken Do That!
Team members: Thomas Jian, Nolan Strolight, Brennan Lu, Cherian Yit
Our game is a 1 v 1 brawler which resembles Super Smash Bros.
In it, two people throw shurikens at each other in an attempt to knock the other offthe stage. Every time a shuriken is thrown, it must be retrieved before being thrown again. At any time, either player can press the space button to change the world.
Bun-Vaders
​
 Team members: Seamas Weech and Sophie Kenny. Two psychology PhDs try to make their first video game over the course of a weekend. What could go wrong?
Slimes are invading and attacking the village's crops! Armed
with a single button, how many slimes can our brave bunny splat before he runs out of health?
JamRunner
​
Team members: Filip Burlacu, Lishi Wang
JamRunner is a fast-paced, twitchy platformer where you can only
control your character by timing jumps. Run automatically back and forth through tricky levels, and time your jumps to get past challenges. JamRunner attempts to follow in the footsteps of games like Super Meat Boy, teaching the player its varied mechanics through level design, but diverges by giving the player large open playgrounds to run around and do tricky jumps in.
Dying Skies
Team members:Benjamin Zhao (Dev), Allen Lee (Dev), Nanson Zheng (Dev), Calvin Ip (Art and Design), Timmy Cheng (Music)
Throughout history, one thing has continually changed our world:
war. "Dying Skies" is a 2v2 Dogfighter game where each team has one pilot and one gunner. Each team's goal is to eliminate the other and teams reload ammo by swapping roles similar to Mario Kart Double Dash for the GCN. Teams battle in an ever-changing environment as each click of the shoot button will damage the environment and cause climate change in the world.
​Monst-apocalypse​​
Team members: Daniel Arevalo(Developer), Grace Ma (Designer), Mohammad Hossein Zarifi (Developer)
This is a single player avoiding game. The player is a Robot that should get through different obstacles and enemies in order to push the SAVE THE WORLD button and save the world.
There are different types of enemies and obstacles that could kill the player, such as Killer Laser, Death Eaters and Poisonous Gas. As time goes on the game gets more difficult and there will be more enemies. Player can see level changes as background stars change color.
Player should pass all enemies and at the end press the button in order to save the world and win the game!!!!!!
CHOWDOWN
​
Team members: Sahbih ismail, Buuchau Chau, Steven Gao
In an alternate universe, planets are sentient and chocolaty
creatures with a burning desire to destroy planets not of their own color. The game takes place in the Meatball System, a dangerous system full of meatball fields.
Countless crusades and meatball collision incidents destroyed most of the planets in the Meatball System, and now only two opposing planets remain. Meatballs are toxic to our chocolaty friends, but are full of energy which can be converted to create more chocolate as deadly projectiles. The two planets have constructed energy fields capable of shielding themselves from enemy chocolate, while also able to absorb meatballs to fuel their own arsenal. While the fields cannot be made large enough to surround themselves, the planets are able to control their orbit as needed. Who will be the last planet standing in the Meatball System?!
UWSimulator
Team members: Ben Liu, Jeffrey Lin, Hao Pan
Our game is a simulator of a student attending the University of
Waterloo. You start from first year and proceed to fourth year, like you normally would. Along the journey, you are accompanied by various memes, I mean "difficulties" along the way. If you do not get hit by any of the objects for 10 minutes, we DEFINITELY assure you that you will advance onto the next year. Or, you can simply forward time and get to the next level. However, you may find obstacles in the
fourth year that you may not be able to overcome. Good luck.
Pocket Pirates
Pockets Pirates is a local multiplayer Asteroids-a-like game where players use their phones as controllers. Tilt your phone to steer, tap to shoot, tap-and-hold for boost or missiles. Run the server on a PC and then run the client on your phone.
NOTE: Everyone
needs to be on the same WiFi network.
Install instructions
Pocket Pirates requires both the Server (PC) and Clients (Android) to be connected to the same WiFi network. Make sure to download both!
To download: https://theplayfulpixel.itch.io/pocketpirates
​Penguin Run
Team members: Daniel (Youchan) Kim, Sang Bin Kim, Yun Chan Kang
​
Use your reflexes and wits to guide a penguin through
the treacherous lands of the North Pole
one-button-change-world
Team member: Andrew Beach
An interactive fiction game about creating medicine on top of a
mountain.
Neverending Strategy
Team members: Chris Hilts
Neverending strategy is a turn based, civilization inspired, strategy game. Currently the game features a procedurally generated map, two basic units; settlers and warriors, and support for playing on either PC with key and mouse control or via steamVR.
Moral Ambiguity
Team members: Alexander Glover, Cindy Liu, Michael Shiozaki
​
You are presented with a button. One button. Two buttons. Three
buttons. Press a button. The Garden of Morality now stands in judgment of your moral process. Answer them to escape the garden or be lost forever in your own morality.
Fairy-15
Team members: Nicholas Robinson, Simeng Yang, Anirudh Iyer, Divit Sharma
A high-concept sci-fi, multiplayer, first person, dogfight game.
Stylistic, colourful, with gorgeous varied terrain. Two or more players can ready-up into an exciting battle in the skies, filled with deadly bullets. Players can control the movement of their respective jets with the WASD keys and fire with SPACE.
Alien Relocation
Team members: Jeffrey Kam
This is a table-top tile-based RPG with card game mechanics. 
Due to recent hexa-verse anomalies, climate
here is under constant destructive fluctuations and you two are the only survivors, and each of you has half the nuclear fuel needed to escape the planet with your rocket home base. A rocket can only carry limited passengers, and you want to make sure your 3-aliens team is the one to leave this hexagonal "plane"t and rebuild the
once prosperous hexagonal world. Objective: Intrude the other player's base to steal the other half nuclear fuel for your rocket and leave the planet.
In-depth rules: here
 
​