The AAL contains instruments for measuring the elemental composition and chemical speciation of aqueous solutions.
Location: PHY 223
Instruments
ICP-OES
Ion Chromatography (IC)
Gallery™ Discrete Analyzer
Organic C, Total N analyzer
Water Isotope Analyzer
Carbon-13 CH4/CO2 Isotope Analyzer
Greenhouse & Atmospheric Gas Analyzer
UV-Vis spectrophotometer
Voltammetry
Atomic fluorescence (AFS)
AFS-HPLC
Metrohm 907 Titrando
Multimeter probes
Sample preparation
Freeze dryer
Centrifuges
Microwave digestor
MilliQ-water
AirClean Workstation 600
ICP-OES: Inductively coupled plasma-optical emission spectrometry
Thermo Scientific iCAP 6300 with auto sampler
Analyzes up to 66 different elements with sub-ppb detection limits
Choice of wavelengths from 166 to 847 nm
Capillary ion chromatograph (IC) system
Dionex ICS-5000 with auto sampler
Dual column system (capillary and analytical)
Includes reagent-free and automatic eluent generation, which greatly simplifies sample preparation
Analysis of anions and organic acids (proteins, nucleotides, and amino acids)
Speciation within complex matrices, flexible detection
Gallery™ Discrete Analyzer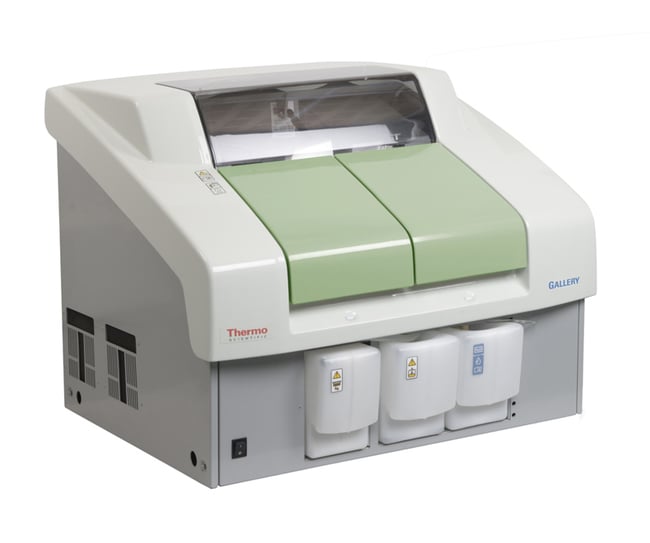 Thermo Scientific Gallery™ Discrete Analyzer
Automated analyzer manages dilutions and replicate analyses
Capable of colourometric, enzymatic and electrochemical analyses
In Ecohydrology, used for analysis of:

Dissolved Reactive Phosphorus (DRP)
Ammonium
Nitrate
Nitrite

Read more about the Gallery analyzer here:

https://www.thermofisher.com/order/catalog/product/98610001#/98610001
Total Organic C, Total N Analyzer
Shimadzu TOC-LCPH/CPN with auto injector
Measures organic C (TOC), TC, IC, and total N with concentrations from 4 µg/L to 30,000 mg/L
State-of-the-art combustion catalytic oxidation system
Analysis of samples ranging from ultra-pure water to sea water or highly contaminated samples
TOC and TN can be measured simultaneously
Picarro L2130-i Isotope (δ18O and δD for Isotopic H2O) and Gas Concentration Analyzer
Cavity Ring Down Spectrometer (CRDS) with vapourizer and autosampler
High quality (high precision, minimal drift) measurements of water stable isotopes in water, vapour and/or solid samples
Currently used by Ecohydrology research group for analyzing liquid water samples
Applications for hydrology, paleo-limnology and -climatology, and oceanography/limnology
Read more about the analyzer:

https://www.picarro.com/products/l2130i_isotope_and_gas_concentration_analyzer
Carbon-13 CH4/CO2 Isotope Analyzer
Picarro G2201-i Isotopic (δ13C- CH4 and CO2) Analyzer
Cavity Ring Down Spectrometer (CRDS) with small sample isotope module (SSIM)
Field portable model
Applications for soil, agriculture/agronomy, atmospheric, groundwater-surface water interactions, peat/permafrost, and critical zone research and sciences
Read more about the analyzer:

https://www.picarro.com/products/small_sample_introduction_module_2
https://www.picarro.com/products/g2201i_isotopic_analyzer
Greenhouse & Atmospheric Gas Analyzer
Shimadzu gas chromatograph with a 16 port stream selection valve for automated sample injection of gas samples
The system uses 2 ten port, one six port, and one four port valve(s) to quantify CH4, CO2, N2O, O2 and N2, using 3 different detectors (ECD, TCD, methanizer and FID)
Detection levels range from 100ppb to mid % levels for atmospheric N2 and O2
Data acquisition is managed with shimadzu GC solution software
UV-Visible Spectrophotometer (Thermo Evolution 260)
Wavelength range: 190 to 1100 nm
Light source: Xenon flash lamp (requires no warming up)
Double beam with sample and reference cuvette positions
Methods available for protein analysis and nucleic acid concentration and purity
Voltammeter (Metrohm 797 VA Computrace voltammeter with autosampler)
Applications include measurement of metals (including uranium, copper, mercury, lead, cadmium, iron, manganese, and selenium) and non-metals (cyanide, vitamin E and vitamin C). 
Includes a multi-mode electrode (MME) that can also be operated as DME, SMDE, or HDME
Atomic fluorescence (AFS)
PSAnalytical PSA 10.055 Millenium Excalibur with PSA 20.400 Autosampler
Hydride generation (HG)
Measures total arsenic (10 ppt) and selenium (2 ppt) in aqueous samples
Changing analyte only requires a simple lamp change. Lamps available for antimony (10 ppt), bismuth (10 ppt) and tellurium (10 ppt)
Accurate for concentrations across five orders of magnitude
HPLC coupled to Atomic fluorescence (HPLC-UV-HG-AFS)
Agilent HPLC used in conjunction with the Millenium Excalibur
Provides speciation information in addition to total analysis
Selenium species: selenocystine, selenomethionine, selenite and selenate​​
Probes for:
pH
Eh/ORP (redox potential)
Electrical conductivity
Temperature
Dissolved oxygen
Operation
Potentiometric and STAT titrations. Operation is carried out with high-performance PC software.
Measurement interfaces
Potentiometric electrode (pH, metal or ion-selective electrode)
Separate reference electrode
Temperature sensor (Pt1000 or NTC)
Polarizable electrode
iConnect (measuring interface for electrodes with integrated data chip, so-called iTrodes)
Location: PHY 221
Labconco FreeZone Freeze Dry System 7753020
Freezes < -50°C, pressure 0.05 mBar
For samples with eutectic temperature > -40°C
Capacity: 18 L
Bulk tray dryers and fast freeze flasks available
Maximum speed: 15,000 rpm 
Sample volume: <1 mL to 400 mL
Anton Paar Multiwave 3000
Microwave reaction system for automated soil extraction
Facilitates the maintenance of a sterile work area during sample preparation.
The thermoplastic table-top enclosure uses a 2-stage filtration process, including a HEPA filter, to prevent contamination in microbially sensitive work.
The unit features Class 100 laminar flow, 360 degree visibility, and a built in fluorescent light.
Internal dimensions: 47" W x 23" D x 29" H